Today's world of real estate is fast moving!
With the many different types of technologies being deployed in the real estate industry — selling your house, these days, is more than just putting a sign in the front yard. It's getting the word out – fast!!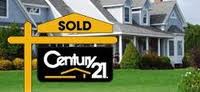 Most home and real estate sales, today, are the result of the buyer searching on the internet.
I use and embrace these technologies in the course of serving my clientele. I have several websites of my own, and when I combine them with the power of CENTURY 21, I'm able to make sure that the World knows that your house is for sale. With maximum exposure of your property, you can expect to receive the best possible results for your transaction.

I bring to the table; experience, tempered with maturity, combined with the insights of training. I have the latest technologies available to me to select from — in order to meet your needs.
I received my real estate license in 1978, and am a firm believer that "real estate sales" is about quality service and meeting the needs of the public. Treating each client as if they are the only one that you are working with. I also believe, that much can be accomplished by moving forward — one step at a time.

Contact me, and we can get you started in the right direction. I'll talk to you then.